Fly Fishing in Western North Carolina
Fall is turning, the leaves are completing their transformation into a spectacular palate of color and mountain trout are peaking in
their own spectacular colors as well. The Southern Appalachian Brook Trout are donning bright orange bellies, with their sides painted in red spots with blue halos, and fins lined in black and white. The Brown Trout are showing deep yellow bellies, with their sides also painted in vivid red spots, and red spots also showing on their top fins.
This year the fall spawning of these two wild species has been slightly delayed due to low water levels and higher water temperatures this summer and early fall.  However, the cool nights of the past few weeks have helped them along and their spawning cycle is in its early stages.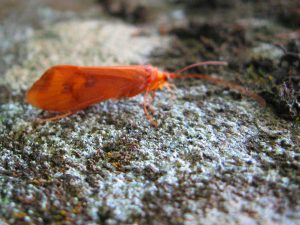 If you are fishing for wild trout Tan Caddis flies are in full swing and the Fall/October Caddis are coming on strong. Large tan or orange fly patterns like the Foam Caddis, Headlight Caddis, Goddard Caddis or Orange Stimulator (sizes 10 and 12) are very effective at emulating the naturals. Tan Dynamite caddis pupae, Grand Poopah caddis pupae in orange/tan and the sizeable October caddis pupae are also very effective. Local Southern Appalachian patterns to try are the Orange Mayfly Drake and the Orange Palmer fished wet or dry. Around the first hard frost try the Tellico Nymph fished dry to emulate bees that have fallen.  Don't forget to use most any terrestrial patterns right up to the first hard frost as well.
Come mid-November add the Red Humpy, Royal Wulff and Royal Stimulator which will be consistently effective flies along with assorted colors and sizes of nymphs.  For additional fly suggestions you may speak directly with a professional guide by contacting or visiting one of the Curtis Wright Outfitters stores.
The Delayed Harvest streams were stocked with good numbers of trout in October and November,allowing for the catch and release fishing for these friendly, cooperative fish to remain excellent. Each county in Western North Carolina has at least one designated Delayed Harvest stream, so whether you're fly fishing in the Asheville area or any of the surrounding WNC areas you are not far from great trout fishing.  Some of the streams that have been stocked include Shelton
Laurel/Big Laurel, North Mills River, Tuckaseegee River, East Fork of the French Broad River, Little River, the Green River and Curtis Creek,. Good numbers of fish are being caught on a wide variety of flies such as San Juan Worms, Egg patterns and flashy Wooly Buggers.
Winter is waiting around the corner and that doesn't mean that the trout won't be biting. Winter fishing in Western North Carolina can be spectacular for many reasons, the best being solitude. The fall colors will be giving way to unencumbered views of the beautiful mountainous terrain.  Dry flies hatch throughout the winter at mid-day and nymph fishing the deep holes can also be very productive.  Make sure to get down deep with your nymphs and you should have great success. It's not unusual to see some 60 degrees days in January so any fisherman visiting from up north hoping for a retreat from the cold can, tie up or buy up some winter flies, consider hiring a guide, anticipate the mild weather, and keep that fly rod ready!