Updated Every Tuesday:    5-8-12
Water Conditions:
South Holston Release Schedule
Hatches: Look for early morning midge hatches while the morning fog hangs on the river. The mayfly hatches on the South Holston have been softer of late but be prepared for Sulphurs and BWO's because we know the big numbers will be showing them selves again soon. Caddis are doing their thing on the Watauga, with Sulphurs and Terrestrials starting to have their time and place.

Fly Suggestions: Black and Red Zebra midges in sizes 18-22, Midge Cluster sizes 18-24, PMD Silouette Dun sizes 16-20, BWO Klink Emerger sizes 18-22, Mighty May PMD Size 16, Flashback Hare's Ear sizes 14-18, Glitter Ant size 16 (cinnamon/black)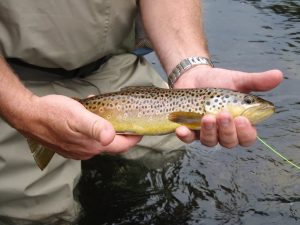 General Information: Both Tennessee Tailwaters are primed and ready to go. Fish are looking up and waiting for hatches to start. If they don't then they are quite content on feeding subsurface. Slow drifts will allow more fish to see your flies which will create more opportunities. Don't be in such a hurry to see new water, you might be surprised what changing a fly or two and adding a split shot might coax out. If fishing from a boat don't be afraid (maybe a little) to throw some ant patterns underneath the limbs on the river bank. DIDYMO is in full bloom on the South Holston now partial because of lack of generation so be prepared to have to deal with that. More importantly make sure you clean ALL you gear before fishing another water.
Projected Conditions: With milder temperatures forecast for this week its a great time to be on the water. Make sure you have the right sun protection even on the cloudy days. I expect the hatches to pick back up soon, With sunny days coming longer leaders will allow for better presentations. Always be ready for the afternoon rainstorms because the fishing can get HOT!