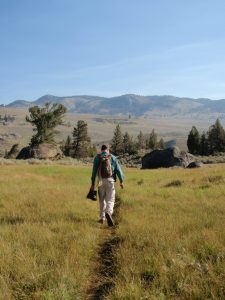 8/17/12 First Day of Fishing   (Yellowstone/Lamar Confluence)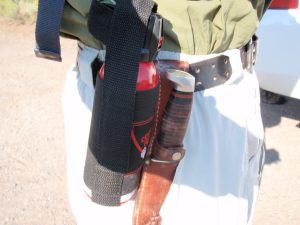 So for the first day of fishing, Jeff and myself decided we wanted to try somewhere new to the both of us. We have both fished the Lamar in the past with spotty success at best. Well Today we were determined to have a different outcome. Only thing is did the fish get the memo?  We got geared up right quick and made sure not to forget the Bear spray. We made our way across the meadow , and as we topped the ridge we could hear the Lamar roaring.
We made quick work of the scramble down the hill, Got booted up and rigged and we were ready to hand out some piercings. I started with a cricket followed by an ant.  Jeff rigged up with a hopper and followed it up with a beetle. We headed slightly down river to the confluence of these mighty bodies of water and were greeted by some very eager fish that were hanging right on the line between these two gorgeous bodies of water. The first several fish fell to my ant and I was even able to convince one or two to come taste my cricket.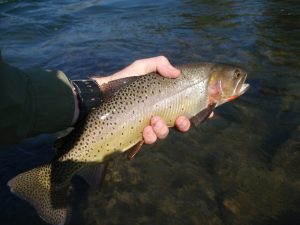 Water levels are lower this year than they have been in the past but you could not tell by fishing these rivers. Activity was on and off through the pre-lunch session. When you would find a fish there would multiples waiting with a slack jaw. As we worked our way upstream we ran into a couple other fisherman wh0 were having minimal luck but were enjoying the beautiful day we had. Sunny, zero clouds, and a very slight breeze made for a wonderful day on the water.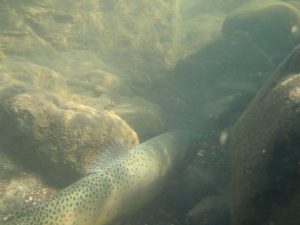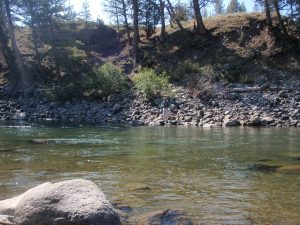 As we continued to work up stream, our surroundings changed pretty dramatically. We went from fishing a river with timber and meadow banks into fishing a gorge section of the river that was not to be taken lightly. There were 200+ feet cliffs on both sides with a couple of spots having no shore to work with what so ever. Casting and wading took some skill, but boy were those fish eager. The water was DEEP throught the cannon so I decided to go to the old stand by nymph the "Boss Hog". I tied it on about a 4 foot dropper underneath a Sweetgrass Hopper and needless to say it was on. I couldn't keep the fish off the Boss Hog, and with all the current we were dealing with, every fish fought like a monster. Here are a couple beauties showing off their Jewlery.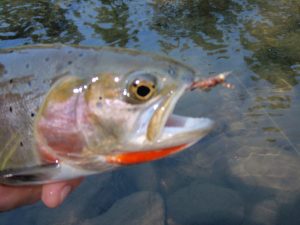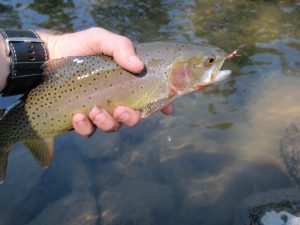 The fishing stayed constant through the rest of the afternoon with fish absolutely going bonkers over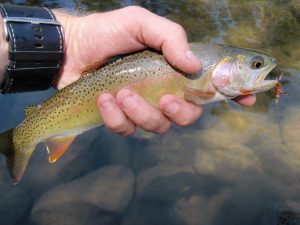 hopper's for about an hour and a half. Almost every cast would produce a strike. What you did with it after that is up to you. We continued to fish up through the canyon but the catching had started to taper off a bit, so we decided to start our walk out. On the way out we started talking about our float trip we have scheduled tomorrow with Walter Weise of Park's Fly Shop. We also reflected on a great day of fishing and all the wild life we had a chance to witness. Birds, Bison, Elk, Snakes, Marmots and most importantly the fish. Check back with us tomorrow to see how the float trip turned out.