8/18/12 Floating the Mighty Yellowstone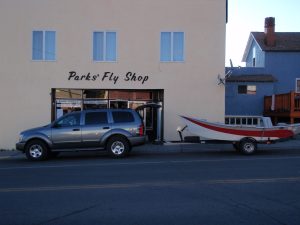 So on today's agenda was to do a long Float Trip on the Yellowstone River with Head Guide, Walter Weise, of Park's Fly shop in Gardiner Montana. We have been fishing with these guys for years and boy, they really know their stuff. After getting licensed and exchanging typical Fly Shop chatter, we headed out to see what the Yellowstone had to offer. We started the day with some cooler temperatures, mid 40's, but it warmed up quickly. Shortly after arriving at our launch, we were rigged and ready to give the fish a hard time.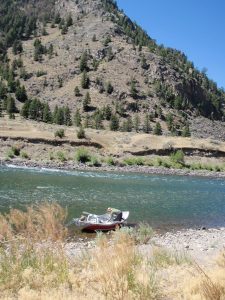 Unfortunately for the first couple hours we were the one's getting the hard time. We had some strikes, but too quick of a hook set allowed them to swim away chuckling at our best effort. The fishing and catching picked up a good bit after the water warmed a little. The fish were keying in on smaller dry flies, and occasionally we would have one come up and tag the hoppers.Fishing continued to pick up as the day went one, especially once we got down into Yankee Jim Canyon. Fish were anticipating grasshoppers and  they weren't afraid to rise in water as much as 70′ deep.  A couple of hoppers actually had to be retired due to toothy Cutthroat chewingthem up. Pink and Tan were the best colors of the day.  Browns, Bow's, Cutthroat, and Whitefish all found their way to our net, and almost everyone was colored up  beyond belief. I never ceased to be amazed at the shear beauty of nature, and fantastic fight of wild fish.  We saw several species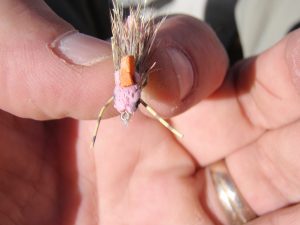 of bugs coming off today, from Caddis to Mayflies, but the fish did not key in on one thing, So needless to say there was a lot of fly changing going on.  As usual, toward the end of the day Jeff took a turn on the oars and proceeded to put Wally on some fish. Speaking from a guides point of view, it;s nice to get to make a cast every once in a while. Most time you are helping your guests or getting ready for the next trip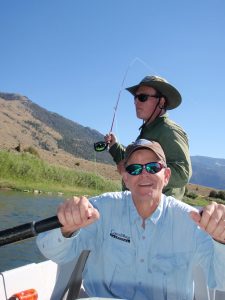 which leaves little time for getting out yourself.  As the evening crept in, the fishing slowed tremendously but there were a few more destined to to feel the point of our hooks, including a beautiful 15″ Cuttie that rose slow enough to give any seasoned fisherman a case of the quick draws but somehow the blind hog found an acorn and was able to coax it in for a couple quick photos.  All in all it was a great day with GREAT people!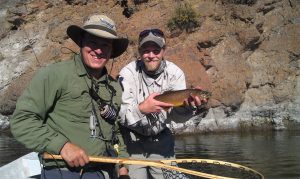 Check in tomorrow to see how Slough       fishes!!!!!!!